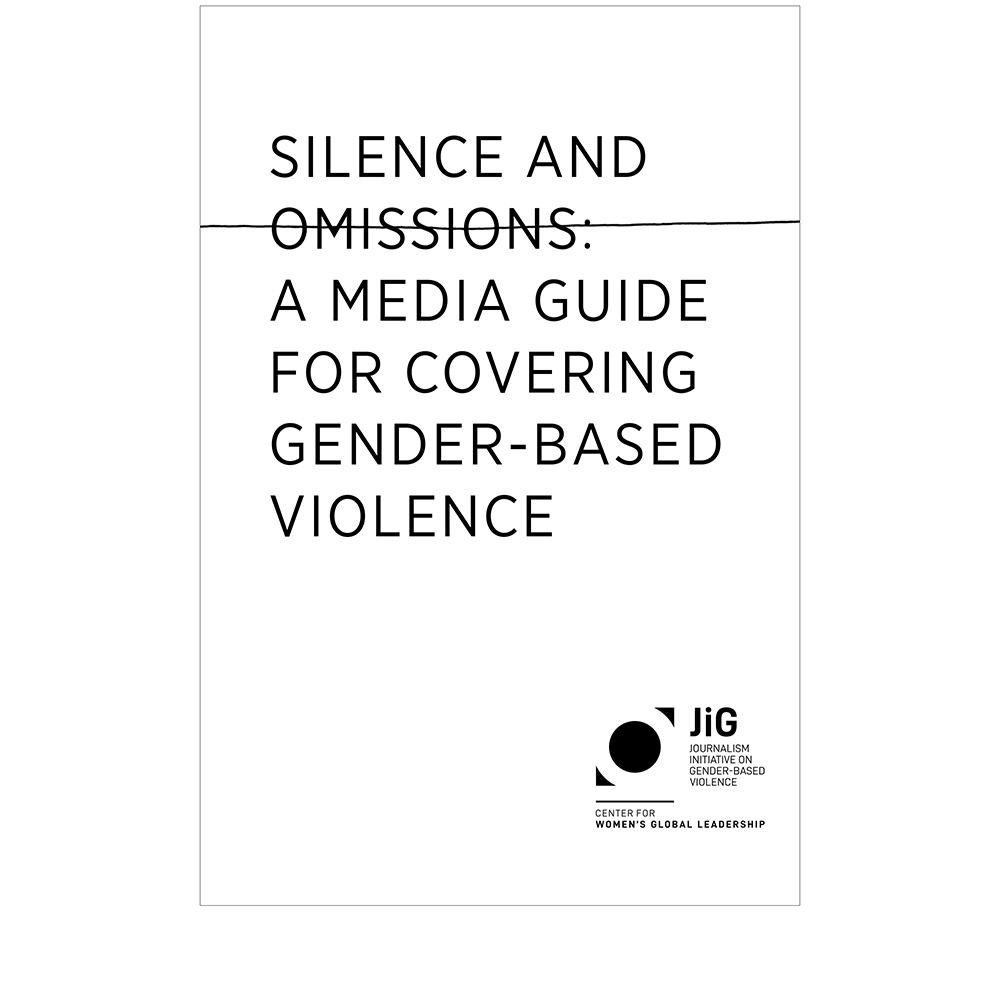 Preface
Gender-based violence is a human rights violation that, in its extreme form, is fatal. Violence is part of a continuum of gender-based discrimination, harassment, and exclusion that debilitates women and deprives them of their ability to thrive and be equal members of society. Violence perpetrated against women because they are women happens in all corners of the globe and is commit- ted by individuals, state, and non-state actors.
It has been three decades since advocates for the recognition of violence against women as a human rights violation started the Global 16 Days Campaign to end gender-based violence. Currently, the campaign is implemented in over 180 countries. Rutgers University's Center for Women's Global Leadership (CWGL) is honored and humbled to have initiated and coordinated the campaign since 1991.
Silence and Omissions, the standard-setting guide developed with journalists and for journalists, is a result of CWGL listening to their testimonies and recommendations. Journalists who report on gender-based violence, sometimes at great risk to themselves, play a crucial role in influencing social norms by how they tell the story. Silence and Omissions shows the power of survivor-centered reporting, and how a human rights approach ensures the inclusion of multiple and intersecting identities; recognition of the root causes of violence that can lead to its prevention, and unbiased standards toward accountability.
The COVID-19 pandemic, disasters rooted in climate change, and conflicts continue to amplify gender-based vulnerabilities and violence. Social media, the #NiUnaMenos and #MeToo movements, and citizen journalism are shifting the discourse on how the media reports on gender-based violence. At this moment, journalism in action is shedding light on the lives of women, girls, and women journalists in Afghanistan. These reports are drawing the eyes of the world, and hopefully, contributing toward protecting those at risk of life-threatening persecution and the denial of rights.
We at CWGL are deeply committed to helping the media and other entities report on gender-based violence and protecting journalists who risk their lives in the course of their work. We hope Silence and Omissions will contribute to improving coverage in this vital area.
The role of journalists is fundamental in attaining a world without violence where women and girls can enjoy their inherent right to dignity, respect, and equity.
Krishanti Dharmaraj
Executive Director
Center for Women's Global Leadership
Rutgers University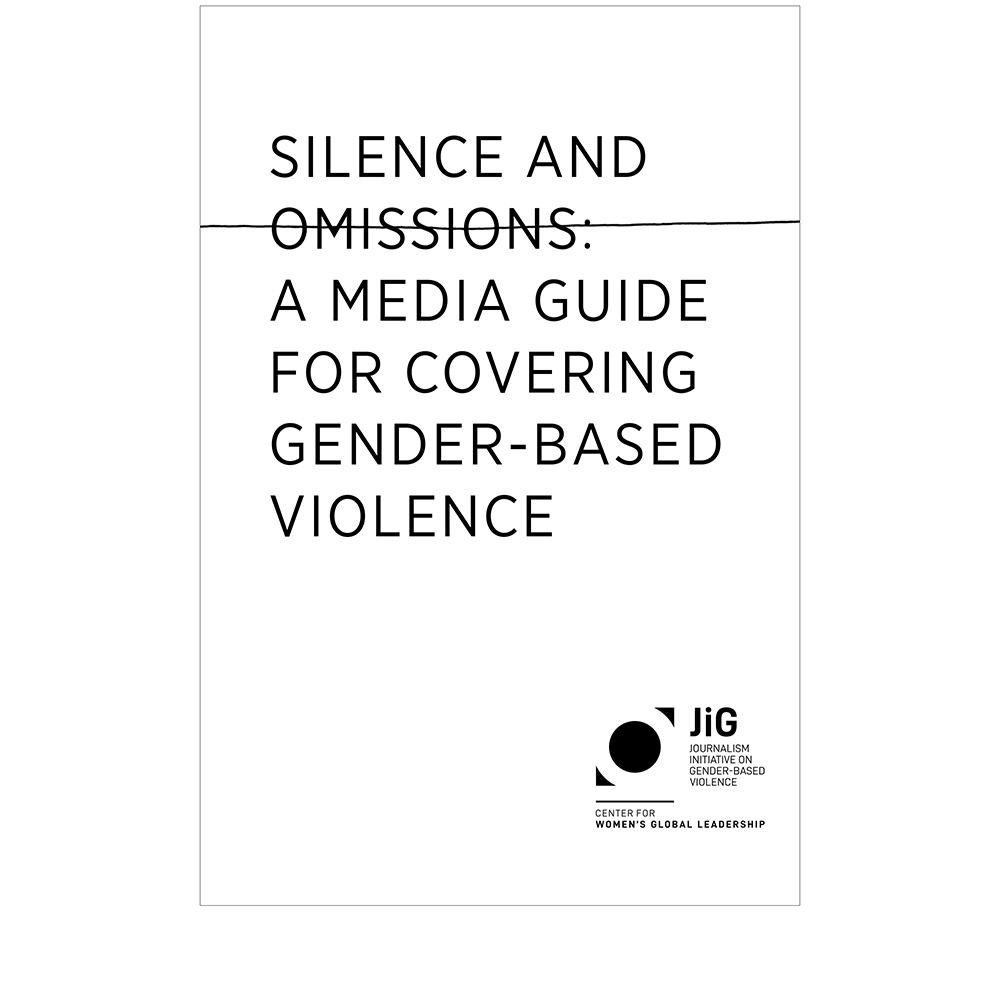 Introduction
Reporting on pain and violence is never easy. The intimacy involved in gender-based violence makes it even harder to report and write about clearly. Yet, journalists can and do shed light on these "private matters." At its best, journalism works to dispel misperceptions and stereotypes, holds power to account, initiates changes in law, and provides the space for survivors to speak.
There are many guidelines for journalists reporting on gender-based violence, but the Center for Women's Global Leadership (CWGL) at Rutgers University (U. S.) saw the need to bring together a wide range of resources and perspectives in one place, to help veteran journalists, media and communications workers, and journalists just starting out.
The Journalism Initiative on Gender-Based Violence was formed in 2018 following an assessment of CWGL's Global 16 Days of Activism Against Gender-based Violence Campaign. The assessment highlighted the essential role of the media in the public's awareness of gender-based violence. The Initiative then gathered more than 100 journalists and media experts from across the globe to identify gaps in existing guidelines on gender-based violence reporting.
Six regional consultations were held in 2018 and 2019 in Australia, Jordan, Kenya, Mexico, Sri Lanka, and the United States. Learning from the expertise and wide range of experiences of participating journalists, CWGL decided to focus on the following recommendations:
Utilize best practices, ethical standards and resources that support a survivors-centered approach
Offer a human rights perspective to put gender-based violence stories in context and address root causes, as well as issues of accountability and redress
Report on the continuum between discrimination and violence, and the intersecting factors and risks that contribute to such violence
Focus on underreported, misreported, and unreported forms and targets of violence (including within marginalized communities)
Examine the long-lasting impact of gender-based violence, as well as the efforts of policymakers, advocates and survivors to seek remedies and accountability
Address new trends affecting gender-based violence reporting, such as the COVID-19 pandemic; new conflicts; increasing online violence; the role of #MeToo, and civil society initiatives working toward the elimination of gender-based violence, such as new digital tools, femicide observatories, and new human rights standards.
While referencing previous media guidelines for journalists on ethical journalist practices, CWGL's handbook provides a broad range of resources and recommendations aimed at journalists, schools of journalism, media trainers, gender and media studies researchers and educations, and NGO communications specialists working with the media on issues of gender-based violence.
CWGL's standard-setting handbook includes references to international human rights standards and accurate terminology to help journalists frame their stories. It also includes evidence-based analyses of media coverage; examples of best practices; case studies; personal essays from journalists reporting on gender-based violence and survivors; a resource list aimed at helping journalists identify a wider range of experts, and ideas for future coverage.
Examples of media coverage and gender-based violence studies are mostly limited to those published in English. But many of the selected resources are also available in other languages.
The guiding principles at the core of this handbook reflect the remarkable commonalities that emerged from CWGL consultations with journalists from 38 countries, and from subsequent guidance and contributions from them and other media professionals from around the world.