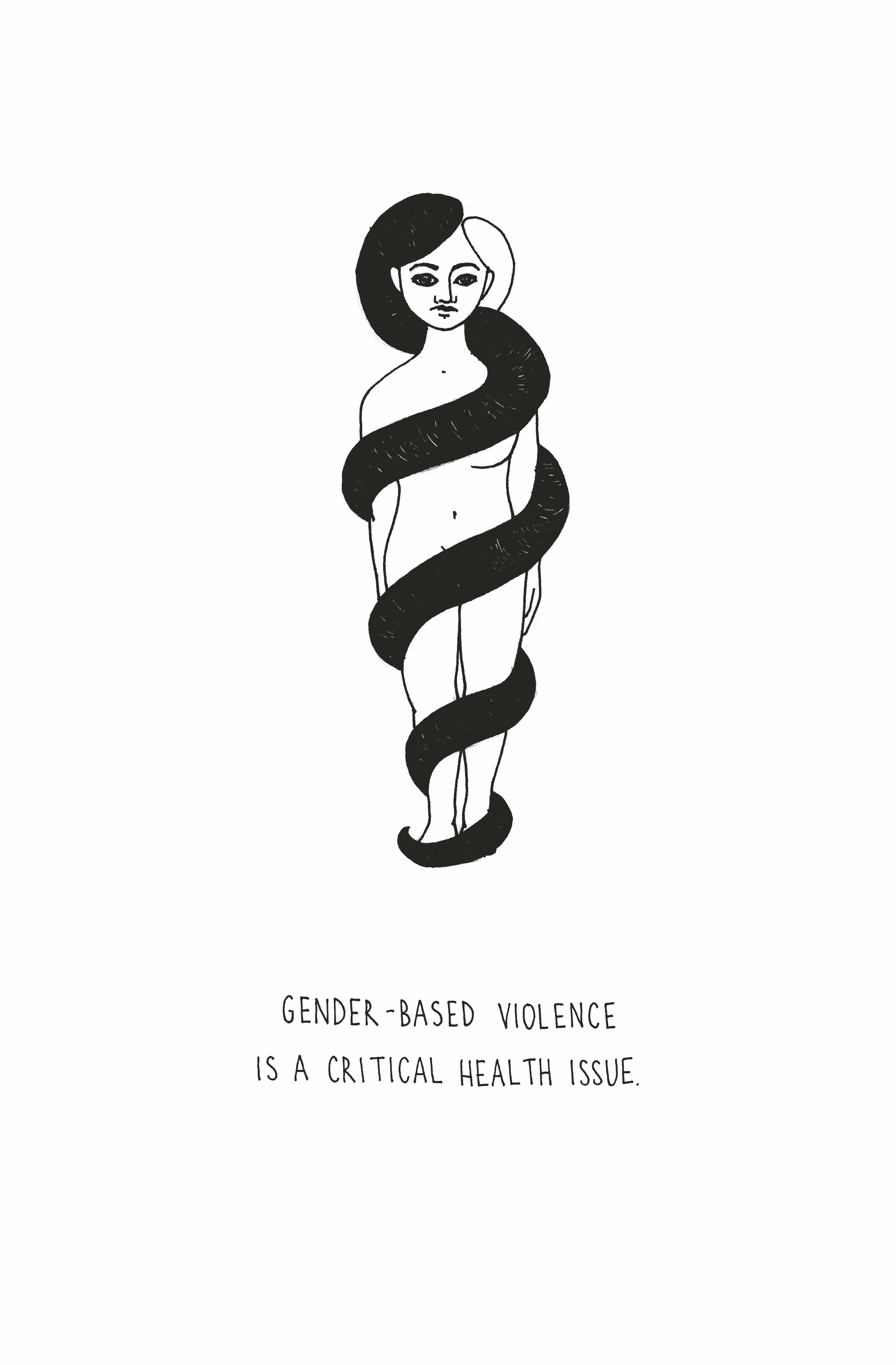 5.
Reporting on violence against sexual and reproductive health rights
Human rights organizations, UN agencies and academic institutions have published numerous reports on discrimination and violence against the sexual and reproductive health rights of women and girls.
But such monitoring and research has not resulted in more media coverage and public awareness. Contributing to this, according to communications and gender researcher Victoria Andelsman Alvarez, are the overall "sidelining of reproductive and sexual health issues" in the media and "the persistence of cultural and professional patterns that marginalize stories about women's rights issues."1 When those are related to bodily autonomy and integrity, their episodic portrayal is too often limited to newsmaking tragedies or controversies, or tainted by harmful stereotypes and stigmas.
"The gender gap in coverage of reproductive issues,"2 a 2016 study by the Washington, D.C. -based Women's Media Center, used the example of the U.S. media landscape to address the dominance of male voices in bylines and quoted sources. These findings were particularly evident in wire service stories, which are widely disseminated.
This section seeks to identify generally underreported issues, and propose resources that may help reduce coverage gaps and shortcomings specifically around sexual and reproductive rights. Selected examples of media good practices and newsworthy opportunities can provide some guidance and enhance the scope, depth, accuracy, and impact of reporting on them
5.
5.1.

Definitions
The foundation for the protection of sexual and reproductive health rights was laid in the 1966 International Covenant on Economic, Social and Cultural Rights (ICESCR). Article 12 affirms "the right of everyone to the enjoyment of the highest attainable standard of physical and mental health."3
The 1979 Convention on the Elimination of All Forms of Discrimination against Women (CEDAW), in its Article 16 on marriage and family relations, articulates the specific obligation of countries to ensure that men and women are granted "the same rights to decide freely and responsibly on the number and spacing of their children and to have access to the information, education and means to enable them to exercise these rights."4 In addition, Article 12 requires states parties to the Convention to eliminate any form of discrimination that would deny them the right to the highest attainable standard of health.
The Programme of Action of the landmark UN International Conference on Population and Development (ICPD) held in Cairo in 1994 and adopted by 179 countries, included the first precise definitions of sexual and reproductive health and articulation of related rights.5 It also noted some of the main factors that may hinder their enjoyment, such as "discriminatory social practices, negative attitudes towards women and girls, and the limited power many women and girls have over their sexual and reproductive lives."
International standards and state obligations were further clarified, among others, by two UN committees that have been addressing the complex dimensions of those issues:
The Committee on the Elimination of Discrimination against Women that monitors the implementation of CEDAW, in its General recommendation No. 24 (1999), outlined the obligations of states parties to the Convention "to protect rights relating to women's health since

gender-based violence is a critical health issue

for women."6
gender-based violence is a critical health issue
The Committee in charge of monitoring the implementation of the 1966 Covenant, in its General comment No. 22 (2016), stressed that enjoyment of those rights is further restricted when people, especially women and girls, "experience multiple and intersecting forms of discrimination that exacerbate exclusion in both law and practice."7 Disproportionately affected groups, as identified by the Committee, are "poor women, persons with disabilities, migrants, indigenous or other ethnic minorities, adolescents, lesbian, gay, bisexual, transgender and intersex [LGBTQI] persons and people living with HIV/AIDS... Trafficked and sexually exploited women, girls and boys are subject to violence, coercion and discrimination in their everyday lives... Women and girls living in conflict situations are disproportionately exposed to high risk of violations of their rights, including through systematic rape, sexual slavery, forced pregnancy and forced sterilization."8
The Committee also spelled out that the core obligations of the 171 states that ratified the International Covenant on Economic, Social and Cultural Rights include the enactment and enforcement of "the legal prohibition of harmful practices and gender-based violence, including female genital mutilation, child and forced marriage and domestic and sexual violence, including marital rape," as well as the adoption of "measures to prevent unsafe abortions."9
The UN Working Group on discrimination against women and girls has also made significant contributions to the articulation of the right to health and the obstacles to its non-discriminatory enjoyment. Its 2016 analysis of this issue addressed the "instrumentalization of women's bodies for political, cultural, religious and economic purposes."10 It specifically looked at the harmful effects of son preference in patriarchal cultures; stigmatization (for instance, regarding menstruation and menopause), and the discriminatory use of criminal law.
The Working Group has also commented on the evolving international human rights framework, as well as the regressive trends affecting its application at the states' level, especially around to the criminalization of pregnancy termination.11
The Working Group has most recently looked at the exacerbated violations of the rights to health and safety in situations of crises. In 2021, it warned that, in addressing prevention and responses, "if the focus is strictly placed on a sudden event or a series of events as the defining element of a crisis, the gendered impact experienced by women and girls and the underlying determinants of the crisis which affects them in very specific ways are at risk of not being fully addressed."12 This frequently applies to the media coverage of such crises.
The 2021 UNFPA State of World Population report, which focused entirely on bodily autonomy and integrity, further commented that "as a general principle, rights related to bodily integrity prevent the State from intruding on someone's physical body without obtaining free and informed consent. The foundation for this notion flows from Article 7,"13 of the 1966 International Covenant on Civil and Political Rights, which stipulated: "No one shall be subjected to torture or to cruel, inhuman or degrading treatment or punishment."14 Many violations that do not rise to that level of harm still have, however, a traumatizing and dehumanizing impact.
5.
5.2.

The impact of systemic, discrimination-rooted, and intersectional violence
Sexual and reproductive health services need to be available, accessible, affordable and acceptable for all women and girls, and not restricted by inequalities, prejudice and stigmatization that amplify women's risks of being abused and exploited.
Intersecting forms of discrimination and abuse can further increase the vulnerability of disadvantaged and marginalized individuals and communities. Examples include: women with disabilities who are also Indigenous or in the throes of humanitarian emergencies; migrant domestic workers affected by their legal status; transgender women living with HIV, and adolescent girls in stateless communities. All of them face additional risks, barriers and injustices, including being denied access to essential reproductive health services or being exposed to sexual violence.
Intersecting forms of discrimination and abuse can further increase the vulnerability of disadvantaged and marginalized individuals and communities
The harmful reproductive health outcomes of sexual violence are frequently neglected, especially when media coverage focuses on its most immediate or attention-grabbing circumstances instead of its impact in terms of reproductive rights violations.
Although those violations do increase in situations of crisis, it should be noted that some of the historically marginalized communities most at risk of intersectional violence are often in a "persistent state of crisis" as illustrated by the testimonies received in 2021 by the Working Group on discrimination against women and girls. It noted that many women belonging to ethnic and minority groups (including Indigenous, Roma, and women and girls of African descent) "have been systematically subjected to reproductive violence, including forced pregnancy and sterilization."15
5.
5.2.1.

Women and girls with disabilities
The underreported and intersecting forms of discrimination and abuse that these women are subjected to are especially critical issues. Worldwide, one in seven people is a person with a disability, for an estimated total of one billion people.16
"Women with disabilities face multiple barriers to the enjoyment of sexual and reproductive health and rights, equal recognition before the law and access to justice,"17 the UN Committee on the Rights of Persons with Disabilities, in its General comment No. 3 (2016) noted. The Special Rapporteur, in a 2017 report focusing on violence against girls, stated that "disability is more prevalent among women, and that the intersection between young age, disability and gender results in both aggravated forms of discrimination and specific human rights violations against girls and young women."18
The Delhi-based digital news magazine The Bastion, reported that "although their reproductive rights are enshrined in numerous legal instruments, an alarming 93% of women and girls with disabilities in India have been, and continue to be, denied them."19 In addition to their vulnerability to sexual violence, it said, they are also at risk of sexually transmitted diseases, unwanted pregnancies, forced sterilization and suicide.
In the United States, according to the National Indian Country Clearinghouse on Sexual Assault,20 "American Indian/Alaska Native people with physical, mental, cognitive and mobility disabilities suffer some of the high- est rates of sexual violence." Less than 3% of women report these crimes in part because most perpetrators "serve as the victim's primary caregiver. Thus, the victim may be dependent upon [him] for food, clothing, health- care and shelter."
5.
5.2.2.

Forced sterilization
Forced sterilization, recognized by the UN as a form of cruel, inhuman, and degrading treatment, is one of the most egregious examples of reproductive violence based on overlapping systems and forms of discrimination, including where women with disabilities are concerned. Also targeted, as described in a UN interagency statement, are women living with HIV, Indigenous and ethnic minority women and girls, as well as transgender and intersex persons.21
The following situations illustrate ongoing violations that are ripe for sustained media attention, while the selected examples of investigative reporting feature impactful best practices.
In China's northwestern minority regions, campaigns to drastically reduce birthrates among the Muslim population have been oppressing women through compulsory sterilization, mandatory gynecological exams and birth control, and forced abortions. The often-referenced reporting of Associated Press' global investigative team, in 2020, is a model of detailed and nuanced coverage that has contributed to counteracting the Chinese government efforts to "erase" those women, including through punitive internment.22
As part of its "Under-reported Stories" on women's rights, the Thomson Reuters Foundation, a year later, published an exclusive news update based on a data analysis by German researcher Adrian Zenz that exposed the ongoing drastic suppression of Uyghur birth rates.23
Coverage from the Washington Post is also worth mentioning for its focus on the neglected Kazakh minority, in addition to Uyghur women. Correspondent Amie Ferris-Rotman, after receiving a 2020 Human Rights Watch Merit Award for her investigative feature, tweeted: "Speaking to ethnic Kazakh women, we uncovered sexual violence and humiliation which rights groups said revealed a wider pattern of abuse directed specifically against women, aimed at curbing their ability to reproduce."24
In the United States, the media has been instrumental in exposing involuntary sterilizations against a disproportionate number of incarcerated women of color, including:
The California-based Center for Investigative Reporting (CIR) coverage of California state prison practices, such as unauthorized tubal ligations and coercively soliciting approval for sterilization during labor.25
The following year, the CIR's social scientist Lindsay Green-Barber described the impact of the story: "Media across the country were reporting on the investigation, there were many editorials published nationally and internationally, and California lawmakers responded to the story immediately after it was published, calling for an investigation."26
Investigations by the non-profit news organizations, The Intercept27 and Prism,28 among others, of the inhumane treatment of migrant women in the Irwin County Detention Center in the state of Georgia. The abuses included unnecessary and non-consensual hysterectomies and the denial of access to abortion care for teens who were pregnant as a result of rape. In May 2021, the government announced the closure of that detention facility.
5.
5.3.

Reproductive violence in conflict situations
"Women and girls are disproportionately exposed to a high risk of violations of their rights, including through systematic rape, sexual slavery, forced pregnancy and forced sterilization,"29 warned the UN Committee on Economic, Social, and Cultural rights in its General Comment No. 22 (2016). When crises arise, not only is violence exacerbated but newly recognized forms of gender-based violence occur, such as reproductive violence.
While needing to focus on current conflict situations, the media can follow up on past conflicts that continue to affect the mental and reproductive health of survivors, in part due to a lack of accountability and support services.
The International Criminal Court, in February 2021, convicted Dominic Ongwen, a former commander of the Lord's Resistance Army (LRA), of war crimes and crimes against humanity committed in Uganda in the early 2000s, including rapes and sexual enslavement. Al Jazeera reported that "Ongwen was the first person convicted by the ICC of the crime of forced pregnancy, for abducting and raping so-called 'wives,' some of whom were underage."30
According to scholar Rosemary Grey (University of Sidney), it was also "the first [case] to expressly consider the reproductive autonomy of individual women and girls." Grey further stressed that the responsibility of raising children born as a result of violence is "a burden which is compounded by the disproportionate impact of poverty on women and girls, and the social stigma that women who become pregnant by 'the enemy' often face."31
Although the international coverage of Ongwen's sentencing in May 2021 was quite extensive, it rarely addressed those multi-layered issues of reproductive violence and justice.
Some of the less covered conflicts of our time, such as the persistent civil war in Cameroon, have also seriously endangered the reproductive health rights of women.

Although the media has reported on rape and other forms of sexual torture, the indirect impact of this Anglophone Crisis has been overlooked. A noteworthy exception is the reporting done in 2020 by Radio France Internationale: "Women bear the brunt of violence in Cameroon's Anglophone Crisis."32 Among the internally displaced civilians, pregnant women have been delivering babies in the bush, and young girls who have been assaulted deal with resulting health issues.

The abuses committed between 2009 and 2016 as a result of the Boko Haram insurgency in Northeast Nigeria, including the abduction of an estimated 7,000 women and girls, were widely reported in the media. Despite 23% of those internally displaced persons having been adolescent girls of reproductive age,33 the coverage often overlooked such issues as sexually transmitted infections, sex trafficking, early and forced marriages, and forced pregnancies. Also lacking were mentions of the ongoing consequences (including on maternal mortality and morbidity) of the survivors' lack of access to sexual and reproductive health services.
The plight of internally displaced women whose reproductive health rights have been violated during the Syrian conflict has been consistently documented by UNFPA.

This includes pregnant women who had to give birth unassisted while seeking shelter or who had miscarriages on the road.
UNFPA's Jordan-based Regional Syria Response Hub has assisted and trained journalists reporting on gender-based violence in humanitarian settings.34 In addition to addressing core ethical principles for journalists, it also has been providing guidance on covering reproductive and sexual violence.
5.
5.4.1.

About abortion
The denial of safe abortion is discriminatory and a form of gender-based violence recognized by international law35 which should be reflected in media coverage. Reporting on the adoption of restrictive laws and policies, and on trends and advocacy efforts to remove them, can be especially challenging for journalists to cover accurately, fairly, and safely.
Often missing from such coverage is the lasting impact on the health of women. The Human Rights Committee General Comment No. 36 (2018) clearly stipulated that "restrictions on the ability of women or girls to seek abortion must not, inter alia, jeopardize their lives, [and] subject them to physical or mental pain or suffering."36
In a September 2019 joint statement, UN human rights experts further noted:
"Denial of access to safe and legal abortion drives service provision underground into the hands of unqualified practitioners, and exacerbates the risks to the health and safety of the affected women, in the form of pregnancy-related injuries and death. It is estimated that 25 million unsafe abortions take place every year, causing the preventable deaths of about 22,000 women, almost all in developing countries. Additionally, an estimated seven million women and girls experience injuries resulting in impairment and infertility."37
Coverage of the following abortion-related issues illustrates ways in which impactful stories can address some of the most neglected or mischaracterized situations.
"A story that needed to be told"
In an email to Center for Women's Global Leadership,38 The Guardian journalist Liz Ford summarized her interest in reporting on one of the "immoral sentences"39 imposed in El Salvador on several women accused of illegal terminations of pregnancy after having suffered stillbirths.
"In 2014, I heard that women in El Salvador were being charged with aggravated homicide and imprisoned for up to 40 years after experiencing an obstetric emergency. It shocked me beyond anything I'd heard before. It was chilling to think that a woman who has already experienced the pain and grief of miscarriage or stillbirth could end up handcuffed to a hospital bed and accused of murder because a doctor believed she had attempted an abortion. El Salvador has a total ban on abortion. This was a story about injustice, about women's reproductive rights and about poverty. As well as receiving inadequate healthcare, the convicted women came from low-income backgrounds and were given insufficient legal advice."
Several articles in The Guardian, under either Ford's40 or Nina Lakhani's byline,41 have focused on similar sentences following different types of obstetric emergencies. In several cases, follow-up stories have included an examination of the hidden and cruel impact, including for girls and rape victims, of such a prosecutorial approach. In a landmark case also reported by The Guardian in March 2021, civil society plaintiffs had asked the Inter-American Court of Human Rights "to mandate that the state take responsibility for failing to guarantee [the victim's] rights to health and life."42
The harmful practice of "abortion reversal"
The global media platform openDemocracy produced a standard-setting investigative series in 2021 on a "potentially dangerous, unproven and unethical"43 treatment to reverse medication-based abortions. As of March 2021, doctors willing to prescribe this so-called abortion pill reversal had been identified on four continents. OpenDemocracy findings suggested that "women's lives are being put in jeopardy by misinformation and harmful practices"44 that may prove fatal.
women's lives are being put in jeopardy by misinformation and harmful practices
After the openDemocracy series, the UK General Medical Council opened an investigation and the Society of Obstetricians and Gynaecologists of Canada denounced the practice.
Sex selective abortions
A UN interagency statement drafted in 2011 by the WHO Department of Reproductive Health and Research45 indicated that "sex selection in favour of boys is a symptom of pervasive social, cultural, political and economic injustices against women, and a manifest violation of human rights... As a result, women are often under immense family and societal pressure to produce sons. Failure to do so may lead to consequences that include violence, rejection by the marital family or even death... Evidence shows that if women do not have access to safe abortion services they often turn to unsafe options – or if they cannot terminate a pregnancy, they are forced into childbearing until a boy has been born."
This joint UN statement, among others, addresses the complexity of the issue of sex-selective abortions' root causes, individual motivations, implications, and possible solutions. Many aspects of this practice, including historical, legal, and ethical, are often overlooked or oversimplified in the media coverage of the problem. This could be remedied by:
Acknowledging the specific forms of coercion and reasons behind women's decisions without dismissively demonizing the women who opt to terminate such pregnancies (on grounds listed, for instance, in the BBC online "Ethics Guide").46
Avoiding myths and assumptions. This is especially important in the case of Western media reporting on the practice in other parts of the world or within local immigrant communities. Some of those myths and assumptions were clearly addressed in a 2014 study on sex-selective abortion laws in the U.S. by the University of Chicago Law School International Human Rights Clinic and the National Asian Pacific American Women's Forum:47
"India and China are not the only countries where male-biased sex ratios at birth exist. [These] can be found in many countries throughout the world, including those with predominantly white populations," such as some countries of the South Caucasus and Western Balkans, which have some of the most skewed sex rations at birth.48
"An analysis of recent national data of sex rations at birth of foreign-born Chinese, Indians and Koreans shows that these groups have more girls overall than white Americans."
Healthy Debate, a Canadian source of health care information, published an analysis of research and reporting on sex-selective abortions in Indo-Canadian communities.49 It especially mentioned occasional media reinforcement of stereotypes by framing the issue as an imported, questionable practice devoid of its economic, social, and cultural context. The tendency is often compounded by the reliance on non-disaggregated data that is presented without context.
"By only sparking public conversation around the issue when a research study is published, the media fossilize the Indo-Canadian community and neglect important movements of resistance to daughter devaluation that are taking place both in Canada and India," Toronto-based Healthy Debate contributors Amrita Kumar and Manvir Bhangu wrote.
Addressing the complexity of remedies. This challenge has been especially well articulated in the media both by an article in The Conversation (2018) – "The ethical case against sex-selective abortion isn't simple"50 – and by NBC News under the byline of journalist and attorney Safia Samee Ali who reported on an increasing number of U.S. states adopting legislation banning sex-selective abortions.
"Since the laws are being framed as an equal rights issue as opposed to a reproductive rights issue," Ali wrote, it has become a divisive quandary."51
Media coverage of prenatal sex selection would overall benefit from greater focus on specific approaches to challenging underlying norms and attitudes and promoting community-based solutions that are proving more effective than legal prohibitions. Given this deeply patriarchal context, journalists also need to keep the pregnant women at the center of the story and take into account the implications, among others, of government bans.
An excellent example of nuanced reporting on the complexity of those issues52 - including historical and cultural contexts, from economic pressures to inheritance laws - is The Guardian's coverage by Suzanne Moore of prenatal sex selection in Armenia, which banned the practice in 2016. At the time of her reporting in 2018, the country had one of the highest sex ratios at birth in the world (111.1). According to Moore, in the eastern region of Gavar, it even reached 120.
Her article addressed the considerations underlying the preference for boys, including the expectation that they will become breadwinners and provide for the family in old age. She also stressed the degree to which girls are not valued. "In the past", Moore wrote, "if the last child was a girl, she might be called [Bavakan], the Armenian word for 'enough,' as if no one could be bothered to name her."53
if the last child was a girl, she might be called [Bavakan], the Armenian word for 'enough
She also reported on the converging efforts of civil society, the government, and international agencies to campaign against sex-selective abortion and promote human rights. "The article was widely translated and discussed in Armenia," she wrote in a later blog.54 "It is one of the pieces I have written that I am most proud of, as it helped to shift things."
Moore's reporting was later credited for having contributed to the success of the "My Name is Enough" civil society project: "We proudly wanted to share the results of the campaign with you," one of its organizers wrote in an email to her, "because everything was based on your article and we truly owe you for its success."55 Armenia now has a declining sex ratio imbalance.
5.
5.4.2.

At-risk LGBTI persons
Discrimination and violence related to sexual and reproductive health and rights impact LGBTI people on account of their sexual orientation, gender identity, gender expression, and sex characteristics. The Yogyakarta Principles56 outline the protection of those rights under international law, especially the right to the highest attainable standard of health and the protection from medical abuses.
"Corrective" treatment and violence
Being lesbian, gay, transgender or intersex is not a medical condition. However, "gender incongruence" remained on the list of "mental and behavioural disorders" of the World Health Organization International Statistical Classification of Diseases as late as its 2019 edition (ICD-11). In its coverage of the WHO update, the BBC included an analysis by Gender and Identity Correspondent Megha Mohan, which is a noteworthy example of best practice in its inclusion of remaining concerns voiced by experts and advocates.57
A 2020 global report of the International Rehabilitation Council for Torture Victims58 surveyed the range of so-called conversion or reparative therapy practices that can amount to torture or ill-treatment. It described many of the practices that have been condemned by UN independent experts and international human rights organizations. In a noteworthy explanatory piece (May 2021),59 the BBC reported government responses to the banning of such harmful practices.
In a 2015 joint report with the International Center for Research on Women, the World Bank gave the example of "corrective rape" to "cure a lesbian or bisexual woman of her non-normative sexuality by forcing her to have sex with a man or many men." The report added that "documented cases in South Africa, Thailand, and India are on the rise."60
A blog on "corrective" rape targeting Black lesbians in South Africa, published by the Leiden Institute for the Interdisciplinary Study of the Law,61 addressed "the normalization of gendered and racialised violence" and the scourge of impunity in a country where "to date [January 2021] only three cases have gone to trial successfully."
In addition to showing the context-specific patriarchal violence resulting in the literal demonization of lesbians and transgender people, the following articles demonstrate the importance of the perspective and experience of survivors, including their struggle with impunity and, in many instances, their desire to become agents of change:
"Corrective Rape: "I was raped to 'cure' me of being a lesbian" (Marie Claire).62 This October 2019 first person account highlighted the role of the fundamentalist Christian movement in Jamaica.
"Lesbian 'witches' chained and raped by families in Cameroon" (Reuters, October 2018)63 focused on punitive and "corrective" practices linked to witchcraft beliefs.
"Exorcisms and 'corrective' rape: Inside Indonesia's controversial LGBT 'conversion' therapies" (South China Morning Post, April 2021).64

This article opened with the mention of "practices still widely carried out by faith-based organizations in the world's largest Muslim majority nation, as well as some commercial entities."
Singling out the faith- or belief-based dimension of such forms of gender-based violence, however, can result in overlooking their prohibition under international law, or oversimplifying their root causes.
Amnesty International denounced human rights violations against intersex individuals who are being "subjected to non-emergency, invasive and irreversible medical treatment in an attempt to 'normalize' their bodies and which could carry lifelong harmful effects."65
Both the UN Committee against Torture and the UN Committee on the Rights of the Child have also commented on such surgical procedures in considering reports submitted by the governments of Austria, China, Denmark, Germany, Ireland and France.
Gender-affirming care
This includes a broad range of procedures transgender people deem necessary to affirm their gender identity and medically transition through gradual changes of their physical appearance. Access to such interventions is often limited or denied, and "transgender people worldwide experience substantial health disparities and barriers in accessing appropriate services," according to a human rights manual published jointly by the Asia Pacific Forum and the UN Development Programme.66
A 2021 study by the University of California Los Angeles School of Law67 examined those restrictions in the 10 U.S. states that have passed or are considering legislation denying gender-affirming care to transgender minors which would impact over 45,000 youths and put many of them at risk of suicide.
In his 2020 report on the impact of the COVID-19 pandemic, Victor Madrigal-Borloz, UN Independent Expert on protection against violence and discrimination based on sexual orientation and gender identity,68 raised additional "concerns about accessing hormones and other gender-affirming care, which, in some cases, have now been deemed non-essential."
Gender-recognition
Another form of grave violation of transgender people's rights to dignity, bodily integrity, and health, as reported by the Associated Press, is the 2019 decision of Japan's Supreme Court to uphold a law that "effectively requires [them] to be sterilized before they can have their gender changed on official documents... . The 2004 law states that people wishing to register a gender change must have their original reproductive organs, including testes or ovaries, removed."69
Reporting from India supported by the U.S.-based Fuller Project also addressed the situation of transgender people barred from accessing social and medical services without legal gender recognition, which requires proof of surgery, among other documentation.70
5.
5.4.3.

At-risk human rights defenders
Women working for the protection and promotion of sexual and reproductive rights are at risk in many parts of the world. A 2019 UN report on the "Situation of women human rights defenders" highlighted such risks. Special Rapporteur Michel Forst wrote that these "are often considered private or shameful matters . . . that may be perceived as challenging religious and cultural norms and may trigger a backlash from religious and conservative groups."71
Women defenders who promote accountability, provide direct assistance to survivors, or work specifically on sex workers' rights, can face increased levels of threats and attacks. A brief published in 2020 by the UN Office of the High Commissioner for Human Rights (as part of its series on sexual and reproductive health and rights) outlined the trends restricting the rights of those defenders, including "increased repression, violence and impunity . . . through defamation campaigns, judicial harassment and criminalization . . . as well as restrictive and divisive donor policies."72
The brief also referred to a previous report by the Special Rapporteur on the situation of human rights defenders73 that specifically cited the occasionally compounding role of the media, deploring stereotypical portrayals targeting women defenders who fight, among others, against sexual violence and female genital mutilation.
5.
5.4.4.

The impact of the COVID-19 pandemic
Since the beginning of the pandemic, the media has reported quite extensively on the increase in gender-based violence, such as child marriages, female genital mutilation and domestic violence. The reduction or cessation of sexual and reproductive health services, however, has received significantly less attention. When those services are deemed nonessential or deprioritized, marginalized women, pregnant women, women in detention or in refugee camps, among others, are at great risk.
In 2020, openDemocracy started documenting cases of abuse and mistreatment of women during childbirth, in tracking the global impact of COVID-19 on women's rights, including on maternal deaths under lockdowns. This remarkable investigation exposed, among others, forcible separations from newborns, withdrawal of pain medication, and procedures performed without consent. But most of those abuses top the list of untold stories.
Also neglected is the issue of the underrepresentation of women at the decision-making level which has impacted the management of the pandemic and obfuscated its gendered dimensions. An Inter Press Service opinion piece74 by Raquel Lagunas, Gender Team Director at the UN Development Programme (UNDP), however, addressed this gap. Lagunas mentioned the importance of monitoring governments' pandemic resources and decisions that may ingrain gender biases, including through UNDP/UN Women "COVID-19 Global Gender Response Tracker."75 The tool can be especially valuable for the media, as well.
5.
5.5.1.

Guides for journalists
Learning Resource Kit for Gender-Ethical Journalism (Book 2, Chapter 4: Sexual and reproductive health)
World Association for Christian Communication (WACC) and International Federation of Journalists (2012) 66 pages. Available in Arabic, English, French, Russian, and Spanish.
https://whomakesthenews.org/wp-content/uploads/who-makes-the-news/Imported/learning_resource_kit/learning-resource-kit-book-2-eng.pdf
Reporter's Toolkit: Sexual and Reproductive Health and Rights Worldwide
Universal Access Project (2017) 61 pages
http://www.universalaccessproject.org/wp/wp-content/uploads/2015/06/Reporters-Toolkit-on-Sexual-and-Reproductive-Health-and-Rights_June-2017.pdf
Universal Access Project is an initiative of the United Nations Foundation.
A Journalist's Guide to Sexual and Reproductive Health in East Africa
Population Reference Bureau (2011) 56 pages
https://www.prb.org/wp-content/uploads/2011/09/09022011-east-africa-media-2011.pdf
Although focusing on seven East African countries, this publication of the Bureau's International Media Program can be very useful in a wider range of contexts.
Reproductive Justice Media Reference Guide
Forward Together (2017) 14 pages. Available in English and Spanish.
https://forwardtogether.org/tools/media-guide-abortion-latinx-community/
This guide was designed for Latina-oriented media in the U.S., with a focus on reporting on abortion.
How to Report on Abortion: A guide for journalists, editors, and media outlets
International Planned Parenthood Federation (2017) 4 pages. Available in English and Spanish.
https://www.ippf.org/resource/how-report-abortion-guide-journalists-editors-and-media-outlets
The Gender Gap in Coverage of Reproductive Issues
Women's Media Center (2016) 21 pages
https://www.womensmediacenter.com/reports/the-gender-gap-in-coverage-of-reproductive-issues
An analysis of "news stories, columns, op-eds, and editorials published in 12 high-circulation media outlets and widely used wire services" based in the United States. Includes recommendations for media outlets on how to improve their coverage of reproductive issues.
5.
5.5.2.

United Nations documents
International Conference on Population and Development (ICPD) Programme of Action
UNFPA (1994) 177 pages. Available in Arabic, English, French, Russian and Spanish
https://www.unfpa.org/events/international-conference-population-and-development-icpd
Adopted at the ICPF Conference held in Cairo in September 1994
General comment No. 22 on the right to sexual and reproductive health
UN Committee on Economic and Social Rights (2016). Available in Arabic, Chinese, English, French, Russian, and Spanish.
https://digitallibrary.un.org/record/832961?ln=en
This is a general comment on article 12 of the International Covenant on Economic, Social, and Cultural Rights, adopted by the UN General Assembly in 1966.
Reports from the UN Working Group on discrimination against women and girls:
Eliminating discrimination against women with regard to health and safety (2016)
https://undocs.org/A/HRC/32/44
Presented to the Human Rights Council in April 2016. The report focuses in part on the instrumentalization of women's bodies (Section III.D).
Women's autonomy, equality and reproductive health in international human rights: Between recognition, backlash and regressive trends (2017)
https://www.ohchr.org/Documents/Issues/Women/WG/WomensAutonomyEqualityReproductiveHealth.pdf
Position paper on termination of pregnancy (October 2017)
Women's and girls' sexual and reproductive health rights in crisis (2021)
https://undocs.org/A/HRC/47/38
Presented to the Human Rights Council in June 2021.
UN Special Rapporteurs' thematic reports:
The rights to sexual and reproductive health (2004)
https://undocs.org/E/CN.4/2004/49
Report presented to the Commission on Human Rights by Paul Hunt, Special Rapporteur on the right to the enjoyment of the highest attainable standard of physical and mental health.
Policies and practices that impact women's reproductive rights and contribute to, cause or constitute violence against women (1999)
https://digitallibrary.un.org/record/1487619?ln=fr#record-files-collapse-header
Report presented to the Commission on Human Rights by Radhika Coomaraswamy, Special Rapporteur on violence against women, its causes and consequences.
A human rights-based approach to mistreatment and violence against women in reproductive health services with a focus on childbirth and obstetric violence (2019)
https://undocs.org/en/A/74/137
Report by Dubravka Šimonović, Special Rapporteur on violence against women, transmitted to the UN General Assembly seventy-fourth session.
Applying the torture and ill-treatment protection framework in health-care settings (2013)
https://undocs.org/A/HRC/22/53
Thematic report presented to the Human Rights Council by Juan Mendez, Special Rapporteur on torture and other cruel, inhuman or degrading treatment or punishment. The report also addresses the emerging recognition of different forms of abuses in health-care settings, including related to reproductive rights violations (Section IV.B).
Gender perspectives on torture and other and other cruel, inhuman and degrading treatment or punishment (2016)
https://undocs.org/A/HRC/31/57
Thematic report presented to the Human Rights Council by Juan Mendez, Special Rapporteur on torture. Includes a section on the "torture and ill-treatment of women, girls, and lesbian, gay, bisexual, transgender and intersex persons in health-care settings" (Section III.D).
Sexual and reproductive health and rights of girls and young women with disabilities (2017)
Report by Catalina Devandas Aguilar, Special Rapporteur on the rights of persons with disabilities, transmitted to the UN General Assembly 72nd session.
Violence and discrimination based on sexual orientation and gender identity during the coronavirus disease pandemic (2020)
https://undocs.org/pdf?symbol=en/A/75/258
Report by Victor Madrigal-Borloz, Independent Expert on protection against violence and discrimination based on sexual orientation and gender identity, transmitted to the UN General Assembly 75th session.
United Nations Population Fund (UNFPA) State of World Population reports:
Against my will: Defying the practices that harm women and girls and undermine equality
UNFPA (2020). 164 pages
https://www.unfpa.org/sites/default/files/pub-pdf/UNFPA_PUB_2020_EN_State_of_World_Population.pdf
The 2020 edition of this annual report focused on son preference, female genital mutilation, and child marriage.
My body is my own: Claiming the right to autonomy and self-determination
UNFPA (2021). 164 pages
https://www.unfpa.org/sites/default/files/pub-pdf/SoWP2021_Report_-_EN_web.3.21_0.pdf
This report focused on bodily autonomy regarding women's decisions about health care, contraception and sex. It includes a chapter on international treaties and declarations that form the foundations for bodily autonomy and integrity rights.
5.
5.5.4.

The impact of COVID-19
COVID-19, Gender, and Sexual and Reproductive Health and Rights Digest
A weekly online digest of the Heilbrunn Department of Population and Family Health at Columbia University Mailman School of Public Health.
https://www.genderandcovid-19.org/resources/the-heilbrunn-department-of-population-and-family-health-at-columbia-mailman-covid-19-gender-and-sexual-and-reproductive-health-digest/
The Right of Everyone to Sexual and Reproductive health; Challenges and Opportunities During Covid-19
Human Rights Watch (2021) 9 pages
https://www.hrw.org/news/2021/06/10/right-everyone-sexual-and-reproductive-health-challenges-and-opportunities-during#
Human Rights Watch submission to the UN Special Rapporteur on the Right to Health
How Has COVID-19 Affected Women's Rights During Childbirth?
openDemocracy (2020)
https://www.opendemocracy.net/en/5050/womens-rights-during-childbirth-help-us-track-globally/
The results of this investigation into cases of abuse and mistreatment of women in labor around the world was published on July 16, 2020.
COVID-19: A Gender Lens
UNFPA (2020) 9 pages. Available in UN official languages + Portuguese, Tajik, and Turkish
https://www.unfpa.org/resources/covid-19-gender-lens
This technical brief addresses the protection of sexual and reproductive health and rights, and promotes gender equality.
The Impact of COVID-19 on Women and Girls With Disabilities
UNFPA and Women Enabled International (2021) 68 pages
https://www.unfpa.org/featured-publication/impact-covid-19-women-and-girls-disabilities
This report is a global assessment on sexual and reproductive health and rights, gender-based violence, and related rights. Case studies are from Chile, Fiji, Malawi, and England.
5.
5.6.

Endnotes
Andelsman, V. and Mitchelstein, E. (2019). If it bleeds it leads: Coverage of violence against women and sexual and reproductive health in Argentina from 1995 to 2015. Journalism Practice, Volume 13 – Issue 4 (pp. 458-475). DOI: 10.1080/17512786.2018.1504628.

Retrieved on May 15, 2021, from https://www.tandfonline.com/doi/full/10.1080/17512786.2018.1504628
Filipovic, J. (2016).

The gender gap in coverage of reproductive issues. Women's Media Center (USA). Retrieved on May 15, 2021, from: https://www.womensmediacenter.com/reports/the-gender-gap-in-coverage-of-reproductive-issues
International Covenant on Economic, Social and Cultural Rights, UN General Assembly, New York, 16 December 1966. Retrieved on May 15, 2021, from https://www.ohchr.org/en/professionalinterest/pages/cescr.aspx
Convention on the Elimination of All forms of Discrimination against Women, New York, 18 December 1979. Retrieved on May 15, 2021, from https://www.ohchr.org/en/professionalinterest/pages/cedaw.aspx
Programme of Action of the International Conference on Population and Development, Cairo, 13 September, 1994. Retrieved on May 15, 2021, from https://www.unfpa.org/events/international-conference-population-and-development-icpd
UN Committee on the Elimination of Discrimination against Women. General recommendation No. 24: Article 12 of CEDAW (women and health), par. 15, 1999. Retrieved on May 15, 2021, from https://tbinternet.ohchr.org/Treaties/CEDAW/Shared%20Documents/1_Global/INT_CEDAW_GEC_4738_E.pdf
UN Committee on Economic, Social and Cultural Rights. General comment No. 22 on the rights to sexual and reproductive health (article 12 of the ICESCR), E/C.12/GC/22 (2 May 2016). Retrieved on May 15, 2021, from https://digitallibrary.un.org/record/832961?ln=en
Ibid. Par. 7.
Ibid. Par. 49 (d).
UN Working Group on the issue of discrimination against women in law and practice, Thematic analysis: eliminating discrimination against women with regard to health and safety (par.61-85), A/HRC/32/44 (8 April 2016). Retrieved on May 15, 2021, from https://undocs.org/en/A/HRC/32/44
UN Working Group on the issue of discrimination against women in law and practice, position paper on Women's autonomy, equality and reproductive health in international human rights: Between recognition, backlash and regressive trends (October 2017) https://www.ohchr.org/Documents/Issues/Women/WG/WomensAutonomyEqualityReproductiveHealth.pdf
UN Working Group on discrimination against women and girls, Women's and girls' sexual and reproductive rights in crisis, A/HRC/47/38 (28 April 2021).

Retrieved on June 15, 2021, from https://undocs.org/A/HRC/47/38
UNFPA (2021).

State of World Population 2021 (p. 74). Retrieved on May 15, 2021, from https://www.unfpa.org/sites/default/files/pub-pdf/SoWP2021_Report_-_EN_web.3.21_0.pdf
International Covenant on Civil and Political Rights, UN General Assembly, New York, 16 December 1966. Retrieved on May 15, 2021, from https://www.ohchr.org/en/professionalinterest/pages/ccpr.aspx
UN Working Group on discrimination against women and girls, Women's and girls' sexual and reproductive rights in crisis (par. 63-70), A/HRC/47/38 (28 April 2021).

Retrieved on June 15, 2021, from https://undocs.org/A/HRC/47/38
UNFPA (2020, May 12). Pandemic heightens vulnerabilities of persons with disabilities.

UNFPA News. Retrieved on May 15, 2021 from https://www.unfpa.org/news/pandemic-heightens-vulnerabilities-persons-disabilities
UN Committee on the Rights of Persons with Disabilities (2016, September 2).

General comment No. 3 on Article 6 of the Convention on the Rights of Persons with Disabilities.

Retrieved on May 15, 2021, from https://digitallibrary.un.org/record/1314848?ln=en
UN Office of the High Commissioner on Human Rights (2017, November 3). Sterilization a form of "systemic violence" against girls with disabilities. Retrieved on May 15, 2021, from https://www.ohchr.org/EN/NewsEvents/Pages/SterilizationAgainstGirlsWithDisabilities.aspx
Bunga, A. and Matthew T. (2019, July 17). Of stigma and sterilization: The layered stigmatization of women with disabilities. The Bastion. Retrieved on May 15, 2021, from https://thebastion.co.in/ideas/of-stigma-and-sterilization-the-layered-stigmatization-of-women-with-disabilities-in-india/#:~:text=Of%20Stigma%20and%20Sterilization%3A%20The%20Layered%20Stigmatization%20of%20Women%20With%20Disabilities,-By&text=The%20fall%2Dout%20of%20this,relationships%2C%20and%20start%20a%20family
National Indian Country Clearing House on Sexual Assault (NICCSA). "Victims with Disabilities" website tab. Retrieved on May 15, 2021, from https://www.niccsa.org/victims-with-disabilities/
World Health Organization (May 2014). Eliminating forced, coercive and otherwise involuntary sterilization. Retrieved on May 15, 2021, from https://www.who.int/reproductivehealth/publications/gender_rights/eliminating-forced-sterilization/en/
AP Global Investigative Team (2020, June 28).

China cuts Uighur births with IUDs, abortion, sterilization.

Associated Press. Retrieved on May 15, 2021, from https://apnews.com/article/ap-top-news-international-news-weekend-reads-china-health-269b3de1af34e17c1941a514f78d764c
Cadell, C. (2021, June 7). China policies could cut millions of Uyghur births in Xinjiang. Reuters. Retrieved on June 15, 2021, from https://www.reuters.com/world/china/exclusive-amid-accusations-genocide-west-china-polices-could-cut-millions-uyghur-2021-06-07/
Ferris-Rotman, A. (2019, October 5). Abortions, IUDs and sexual humiliation: Muslim women who fled China for Kazakhstan recount ordeals. Washington Post.

Ferris-Totman's tweet was dated May 6, 2020.

Retrieved on May 15, 2021, from https://www.washingtonpost.com/world/asia_pacific/abortions-iuds-and-sexual-humiliation-muslim-women-who-fled-china-for-kazakhstan-recount-ordeals/2019/10/04/551c2658-cfd2-11e9-a620-0a91656d7db6_story.html#click=https://t.co/TaTN0gDwgS
Johnson, C.G. (2013, July 7). Female inmates sterilized in California prisons without approval. Reveal (News website and public radio show and podcast of the Center for Investigative Reporting). Retrieved on May 15, 2021, from https://revealnews.org/article/female-inmates-sterilized-in-california-prisons-without-approval/
Green-Barber, L. (2014). Waves of Change. Center for Investigative Reporting. Retrieved on May 15, 2021, from https://revealnews.org/article-legacy/3-things-cir-learned-from-analyzing-the-impact-of-rape-in-the-fields/
Olivares, J. and Washington, J. (2020, September 15). "He just empties you all out": Whistleblower reports high number of hysterectomies at ICE detention facility. The Intercept. Retrieved on May 15, 2021, from https://theintercept.com/2020/09/15/hysterectomies-ice-irwin-whistleblower/
Vásquez, T. Exclusive: Georgia doctor who forcibly sterilized detained women has been identified. Prism. Retrieved on May 15, 2021, from https://prismreports.org/2020/09/15/exclusive-georgia-doctor-who-forcibly-sterilized-detained-women-has-been-identified/
UN Committee on Economic, Social and Cultural rights (May 2, 2016). General Comment No. 22 on the right to sexual and reproductive health (Article 12 of the International Covenant on Economic, Social and Cultural Rights). .Retrieved on May 15, 2021, from https://digitallibrary.un.org/record/832961/files/?ln=en
Al Jazeera (2021, May 6). LRA commander Dominic Ongwen sentenced to 25 years in prison. Retrieved on May 15, 2021 from https://www.aljazeera.com/news/2021/5/6/lra-commander-dominic-ongwen-faces-war-crimes-sentence#:~:text=The%20International%20Criminal%20Court%20(ICC,crimes%20against%20humanity%20in%20Uganda

.

Grey, R. (2017, December 2). The ICC's First "forced pregnancy" case in historical perspective.

Journal of International Criminal Justice, Volume 15, Issue 5, Pages 905-930.

Retrieved on May 15, 2021, from https://academic.oup.com/jicj/article/15/5/905/4683651?login=true
Bagnetto, L.A. (2020, March 3). Women bear the brunt of violence in Cameroon's Anglophone Crisis. Radio France Internationale (RFI). Retrieved on May 15, 2021, from https://www.rfi.fr/en/international/20200303-women-bearing-brunt-ongoing-violence-cameroon-s-anglophone-crisis
Center for Reproductive Rights (July 2020). The conflict in Northeast Nigeria's impact on the sexual and reproductive rights of women and girls. Retrieved on May 15, 2021, from https://reproductiverights.org/the-conflict-in-northeast-nigerias-impact-on-the-sexual-and-reproductive-rights-of-women-and-girls/
UNFPA (March 2020).

Reporting on gender-based violence in humanitarian settings (second edition). Retrieved on May 15, 2021, from https://www.unfpa.org/reporting-gbv-humanitarian-settings
UN Committee on the Elimination of Discrimination against Women, General Recommendation No. 35 on gender-based violence against women (par. 18), CEDAW/C/GC/35 (26 July 2017) retrieved on May 15, 2021, from https://undocs.org/CEDAW/C/GC/35
UN Human Rights Committee, General Comment No. 36 on Article 6: Right to Life [ICCPR], par.8, CCPR/C/GC/36 (3 September 2019), retrieved on May 15, 2021, from https://undocs.org/CCPR/C/GC/36
UN OHCHR News (27 September, 2019).

All states must ensure access to safe and legal abortion as a matter of human rights. Retrieved on May 15, 2021, from https://www.ohchr.org/EN/NewsEvents/Pages/DisplayNews.aspx?NewsID=25066&LangID=E
Email communication from Liz Ford received by CWGL on March 12, 2021.
Ford, L. (2018, March 13). 'Immoral sentence': Salvadoran woman jailed for stillbirth set free after 14 years. The Guardian.

"Immoral sentence" was the opinion of the court that commuted the 30-year sentence of one of the women convicted of aggravated murder.

Retrieved on May 15, 2021, from https://www.theguardian.com/global-development/2018/mar/13/el-salvador-woman-jailed-stillbirth-set-free-maira-veronica-figueroa-marroquin
Ford, L. (2020, September 24). El Salvador woman freed after six years in jail following stillbirth. The Guardian. Retrieved on May 15, 2021, from https://www.theguardian.com/global-development/2020/sep/24/el-salvador-woman-freed-after-six-years-in-jail-following-stillbirth#:~:text=A%20woman%20sentenced%20to%2030,after%20six%20years%20in%20jail.&text=She%20was%20accused%20of%20killing%20her%20stillborn%20son

.

Lakhani, N. (2019, August 14). El Salvador rape victim who suffered stillbirth faces murder trial. The Guardian. Retrieved on May 15, 2021, from https://www.theguardian.com/global-development/2019/aug/14/el-salvador-rape-victim-who-suffered-stillbirth-faces-murder-retrial-evelyn-beatriz-hernandez-cruz
Parkin Daniels, J. (2021, March 12). El Salvador abortion laws on trial in case of woman jailed after miscarriage. The Guardian. Retrieved on May 15, 2021, from https://www.theguardian.com/global-development/2021/mar/12/el-salvador-abortion-laws-on-trial-in-case-of-woman-jailed-after-miscarriage
Wilson, T. (2021, May 27). Explainer: What is 'abortion pill reversal'. openDemocracy. Retrieved on May 28, 2021, from https://www.opendemocracy.net/en/5050/explainer-what-is-abortion-pill-reversal/
Provost, C. (2021, March 25). Revealed: Doctors worldwide offer dangerous treatment to 'reverse' abortions. openDemocracy. Quote by Melissa Upreti, Chair of the UN Working Group on discrimination against women and girls. Retrieved on June 15, 2021, from https://www.opendemocracy.net/en/5050/revealed-doctors-offer-dangerous-treatment-to-reverse-abortions/
World Health Organization (2011). Preventing gender-biased sex selection: An interagency statement OHCHR, UNFPA, UNICEF, UN Women and WHO.

Retrieved on May 15, 2021, from https://www.who.int/reproductivehealth/publications/gender_rights/9789241501460/en/
BBC (archived). Ethics Guide: Selective abortion. Retrieved on May 15, 2021, from https://www.bbc.co.uk/ethics/abortion/medical/selective_1.shtml
Citro, B.,

Gilson, J., Kalantry, S., Stricker,K.; University of Chicago Law School, International Human Rights Clinic; National Asian Pacific American Women's Forum (U.S.); and Advancing new Standards in Reproductive Health (University of California, San Francisco). Replacing myths with facts: Sex-Selective abortion laws in the United States (2014). Cornell Law Faculty Publications. 1399. Retrieved on May 15, 2021 from https://www.napawf.org/our-work/content/replacing-myths-with-facts
UNFPA (2020). Preventing son preference and undervaluing of girls in Eastern Europe and Central Asia. Retrieved on May 15, 2021, from https://eeca.unfpa.org/sites/default/files/pub-pdf/uf_eecaro_gbss_16-online.pdf
Kumar, A. and Bhangu, M. (2019, July 3). When researching and reporting on sex-selective abortions in Indo-Canadian communities, context is key. Healthy Debate. Retrieved on May 15, 2021, from https://healthydebate.ca/2019/07/topic/sex-selective-abortions/
Williams, J. (2018, September 25). The ethical case against sex-selective abortion isn't simple. The Conversation. Retreived on May 15, 2021, from https://theconversation.com/the-ethical-case-against-sex-selective-abortion-isnt-simple-10380
Ali, S. (2019. October 27). Sex-selective abortions: Reproductive rights are being pitted against gender equality. NBC News. Retrieved on May 15, 2021, from https://www.nbcnews.com/news/us-news/sex-selective-abortions-reproductive-rights-are-being-pitted-against-gender-n1067886
For background information on this issue, see: UNFPA (December 2020). Preventing son preference and undervaluing of girls and Eastern Europe and Central Asia. Retrieved on May 15, 20201, from https://eeca.unfpa.org/en/publications/preventing-son-preference-and-undervaluing-girls-eastern-europe-and-central-asia
Moore, S. (2018, February 22). 'We lose 1,400 girls a year. Who will our boys marry?': Armenia's quandary. The Guardian. Retrieved on May 15, 2021, from https://www.theguardian.com/global-development/2018/feb/22/sex-selection-armenia-quandary
Moore, S. (202, December 7). Notes on Armenia: Sex selection, aliens, and Parajanov. Retrieved on May 15, 2021, from

https://suzannemoore.substack.com/p/notes-on-armenia-sex-selection-aliens

Email communication received by Suzanne Moore on September 21, 2020.
The Yogyakarta Principles are a set of 48 international legal principles on the application of international law to human rights violations based on sexual orientation and gender identity.

They were developed by the International Commission of Jurists (ICJ) and the International Service for Human Rights (ISHR) on behalf of a coalition of human rights organizations. They were adopted in 2006 in Yogyakarta (Indonesia) and further expanded in 2017.

Retrieved on May 15, 2021, from https://yogyakartaprinciples.org/
BBC News (2019, May 29). Transgender no longer recognized as 'disorder' by WHO. Retrieved on May 15, 2021, from https://www.bbc.com/news/health-48448804
Bothe, J. (2020). It's torture not therapy, a global overview of conversion therapy: Practices, perpetrators, and the role of states. International Rehabilitation Council for Torture Victims. Retrieved on May 15, 2021 from https://irct.org/uploads/media/Its_torture_not_therapy_a_global_overview_of_conversion_therapy.pdf See also: Bishop, A. (2019). Harmful treatment: The global reach of so-called conversion therapy. OutRight Action International. Retrieved on May 15, 2021, from https://outrightinternational.org/reports/global-reach-so-called-conversion-therapy
Farley, H. and Lawrie, E. (2021, May 11). What is conversion therapy and when will it be banned? BBC News. Retrieved on May 15, 2021, from https://www.bbc.com/news/explainers-56496423
Crehan, P. and McCleary-Sills, J.

(2015). Brief on violence against sexual and gender minority women. World Bank Group and

International Center for Research on Women. Retrieved on May 15, 2021, from https://documents1.worldbank.org/curated/en/573191611149890222/pdf/Violence-Against-Women-and-Girls-Resource-Guide-Brief-on-Violence-Against-Sexual-And-Gender-Minority-Women.pdf
Gaitho, W. (2021, January 14). Curing "corrective" rape: Conceptualising a dual-pronged approach to sexual violence against Black lesbians in South Africa. Leiden Law Blog. Retrieved on May 15, 2021, from https://leidenlawblog.nl/articles/curing-corrective-rape-conceptualising-a-dual-pronged-approach-to-sexual-violence-against-black-lesbians-in-south-africa
Jackson, A. (2019, October 6). Corrective rape: "I was raped to 'cure' me of being a lesbian." Marie Claire UK. Retrieved on May 15, 2021, from https://www.marieclaire.co.uk/news/corrective-rape-6626
Thompson Reuters Foundation (2018, October 1). Lesbian 'witches' chained and raped by families in Cameroon. Reuters. Retrieved on May 15, 2021, from https://www.reuters.com/article/us-cameroon-lgbt-rape/lesbian-witches-chained-and-raped-by-families-in-cameroon-idUSKCN1MC001
Yuniar, R. (2021, April 25). Exorcisms and 'corrective' rape: Inside Indonesia's controversial LGBT 'conversion' therapies. South China Morning Post. Retrieved on May 15, 2021, from https://www.scmp.com/week-asia/people/article/3130861/exorcisms-and-corrective-rape-inside-indonesias-controversial-lgbt
Amnesty International (March 2018). Body Politics: A primer on criminalization of sexuality and reproduction (p.51). Retrieved on May 15, 2021, from https://www.amnesty.org/en/documents/pol40/7763/2018/en/
Sidoti, C. and Byrne, J. (June 2016).

Promoting and protecting human rights in relation to sexual orientation, gender identity and sex characteristics: A manual for national human rights institutions (p. 61).

Asia Pacific Forum (APF) and United Nations Development Programme (UNDP). Retrieved on May 15, 2021, from https://www.asia-pacific.undp.org/content/rbap/en/home/library/democratic_governance/hiv_aids/promoting-and-protecting-human-rights-in-relation-to-sexual-orie.html
Conron, K., O'Neill, K. & Vasquez, L. (April 2021). Prohibiting gender-affirming medical care for youth. UCLA School of Law Williams Institute. Retrieved on May 15, 2021, from https://www.asia-pacific.undp.org/content/rbap/en/home/library/democratic_governance/hiv_aids/promoting-and-protecting-human-rights-in-relation-to-sexual-orie.html
United Nations, General Assembly, Violence and discrimination based on sexual orientation and gender identity during the coronavirus disease (COVID-19) pandemic. Report of the Independent Expert on protection against violence and discrimination based on sexual orientation and gender identity, Victor Madrigal-Borloz, A/75/258 (28 July 2020).

Retrieved on May 15, 2021, from https://undocs.org/pdf?symbol=en/A/75/258
Yamaguchi, M. (2019, January 25). Japan court upholds sterilization to register gender change. Associated Press. Retrieved on May 15, 2021, from https://apnews.com/article/japan-ap-top-news-supreme-courts-laws-international-news-9ef16f52e9b94b9a838b17a63c6c1e8d
Bardhan, S. (2021, May 10). 'It is like I am being strangled.' This article was part of the Fuller Project's series Gasping for breath: Women provide a glimpse into India's COVID disaster. Retrieved on May 15, 2021, from https://fullerproject.org/story/india-transgender-covid-19-pandemic-lockdown/
United Nations, Human Rights Council, Situation of women human rights defenders. Report of the Special Rapporteur on the situation of human rights defenders, A/HRC/40/60 (10 January 2019). Retrieved on May 15, 2021, from https://documents-dds-ny.un.org/doc/UNDOC/GEN/G19/004/97/PDF/G1900497.pdf?OpenElement
UN Office of the High Commissioner on Human Rights (2020). Women Human Rights Defenders (Information series on sexual and reproductive health and rights). Retrieved on May 15, 2021, from https://www.ohchr.org/documents/issues/women/wrgs/sexualhealth/info_whrd_web.pdf
United Nations, General Assembly, Situation of women human rights defenders: report of the Special Rapporteur on the situation of human rights defenders, A/HRC/40/60 (10 January 2019). Retrieved on May 15, 2021, from https://undocs.org/A/HRC/40/60
Lagunas, R. (2021, May 14). Where are the women? How pandemic decisions are ingraining global gender bias. Inter Press Service. Retrieved on May 15, 2021, from https://www.ipsnews.net/2021/05/women-pandemic-decisions-ingraining-global-gender-bias/